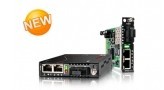 1-Port E1/T1+100M Ethernet Fiber Multiplexer
Company:CTC Union Technologies Co., Ltd.
Phone Number:886-2-26591021
Address:8F, No. 60, ZhouZi Street, NeiHu, Taipei City 114, Taiwan, Taiwan
FRM220‐FOM01 is a modular design for E1/T1 + Fast Ethernet multi‐service to fiber PDH multiplexer. FRM220‐FOM01 provides E1/T1 transmission transparently and pure 100Mbps Fast Ethernet simultaneously. The fiber optic line gives you the options to choose from most popular fiber cabling connectors such as ST, SC, FC or SFP‐LC. Both multi‐mode and single mode models are available as well as BiDi which allows bi‐directional transmissions using only a single fiber cable. With SNMP and Web‐based management in the FRM220, the Network administrator can monitor, configure and control the activity of each card in the chassis.
Features:
1 channel unframed E1/T1
10/100Base-TX Ethernet (100M wire speed)
Auto MDI/MDIX
Auto-Negotiation or Force Speed and Duplex
Supports flow control
Supports 9K jumbo packets (at 100M speed)
Supports Link fault pass through for Ethernet
Supports Digital Diagnostics Monitoring Interface (DDMI) SFP
Loopback test on E1/T1 and fiber ports
Supports Dying Gasp
Supports local or remote In-band management by SNMP manager (when installed in FRM2200-CH20 with NMC)
Local management by console port via FRM220-CH01M chassis.
Supports On-Line F/W upgrade