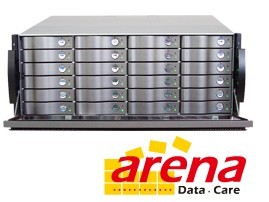 Nova 46S/R 6G SAS RAID System
Company:Maxtronic International Co., Ltd.
Phone Number:886-2-22184875
Address:4F., No.529, Zhongzheng Rd., Xindian Dist., New Taipei City, 231, Taiwan, Taiwan
Balanced Performance
High I/O bandwidth and 6Gb SAS interface, the Nova SAS series are well suited for wide-ranging workloads.
Data Protection
Support RAID levels 1, 3, 5, and 6 to prevent for drive failure. Sustained read performance even in degrade mode.
High Scalability
Internal SAS expanders enable easy to connect up to 7 x SAS 6Gb JBOD enclosures without the need for additional RAID units.
Easy Configuration and Management
User-friendly, easy management interface with quick setup procedure help non-technical users to configure a RAID 5 or RAID 6, in few steps.
Central Monitoring
Support multiple platforms, central managed "RAIDGuard Central" monitoring S/W, reporting failure event via SNMP instantly.
Symmetric Active-Active Redundancy
The Nova series implement Symmetric active-active controller redundancy mechanism ease management of the IT environment and improve efficiency. Help to simplify configuration on VMware clustered environments by eliminating the need to select a preferred path. There is no additional path management utility needed to manage multiple paths and load balance for operating systems already embedded MPIO.
Embedded Snapshot
Block level snapshot embedded at the array F/W to leverage the computing power of the RAID system with less performance impact in comparing to host-based snapshot S/W. The restore function allowing users to restore data by rolling back the previous shot effectively.
Remote Replication
Array based remote replication feature allowing data synchronization via embedded iSCSI ports, through area network or internet.